Welcome to Our Professional Portal
Billing, Coding, and Documentation
Resources and guidance on HCPC, CPT coding, and documentation that is often associated with The Equinus Brace®.
1 Hour Per Day

The Equinus Brace® requires 1 hour per day of treatment, unlike other treatment options, resulting in greater patient compliance

Effective & Precise

Ankle dorsiflexion with the foot supinated to isolate the dorsiflexion force of the hindfoot stabilizes the midtarsal joints and externally rotates the tibia locking the knee in full extension.

Essential

Equinus is associated with more than 35 lower extremity pathologies. A comprehensive treatment plan of these pathologies should include proper equinus management.
Dorsiflexion & Plantar Flexion
Ankle joint hinges in 10° increments allow for precise, gradual, and safe stretching while preventing overstretching thereby providing more consistent and measurable results.
Patented 60° Toe Wedge
The Equinus Brace® comes with a patented 60° toe wedge that engages the Windlass mechanism supinating the subtalar joint thereby isolating the dorsiflexion force to the hindfoot - while removing it from the midtarsal joints. Additionally, supination of the subtalar joint externally rotates the tibia which is essential to fully extend the knee (screw home mechanism).
Adjustable Sizing
With 2 sizes, adjustable length, and an abundance of straps - The Equinus Brace® provides a truly custom fit and superior comfort for your patient.
Say Good Night to Night Splints
Comparison of The Equinus Brace® to Night Splints, Physical Therapy, and Manual Stretching.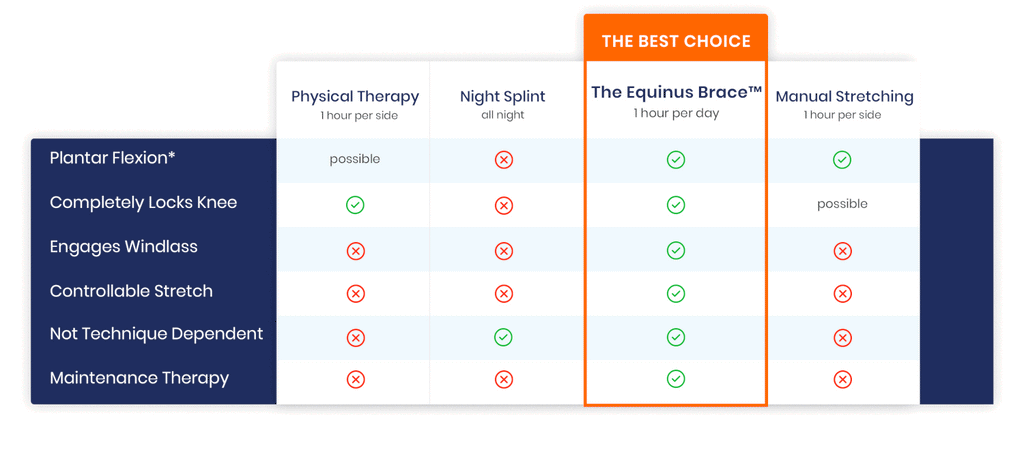 Your ONE Solution to Many Lower Extremity Problems
Equinus deformity has been described as the "Root of All Evils" for lower extremity ailments. Our design is based on the significant library of equinus literature providing treatment for numerous lower extremity pathologies and injury risk reduction for the most commonly associated injuries.
Plantar Fasciitis

"Equinus contracture was noted in 83% (129 of 155) of acute cases, and 82% (82 of 99) of chronic cases." Patel, Amar, and Benedict DiGiovanni."Association between plantar fasciitis and isolated contracture of the gastrocnemius."Foot & ankle international 32.1 (2011): 5-8
Read More

Achilles Tendinopathies

"This study confirmed our hypothesis that reducing Achilles tension by gastrocnemius recession could make a major improvement in recalcitrant Achilles tendinopathy."
Duthon, Victoria B., et al. "Noninsertional Achilles tendinopathy treated with gastrocnemius lengthening." Foot & ankle international 32.4 (2011): 375-379
Read More

Medial Tibial Stress Syndrome

"The vast majority of injuries, when identified early on, can be treated effectively with minor modifications in the training program, correction of underlying muscle and flexibility imbalances, and attention to appropriate footwear."
Fredericson, Michael. "Common injuries in runners." Sports Medicine 21.1 (1996): 49-72
Read More
Metatarsalgia

"Gastrocnemius shortening causes an equinus deformity that may clinically manifest in foot disorders, including metatarsalgia." Morales-Muñoz, Patricia, et al. "Proximal gastrocnemius release in the treatment of mechanical metatarsalgia." Foot & ankle international 37.7 (2016): 782-789
Read More

Sever's Disease

"Every child in the Sever's disease group had bilateral gastrocnemius equinus." Becerro de Bengoa Vallejo, Ricardo, et al. "Plantar pressures in children with and without Sever's disease." Journal of the American Podiatric Medical Association 101.1 (2011): 17-24
Read More

PTTD

"Achilles tendon stretching is an important component of the nonoperative management of posterior tibial tendon dysfunction."
Aronow, Michael S. "Triceps surae contractures associated with posterior tibial tendon dysfunction." Techniques in Orthopaedics 15.3 (2000): 164-173
Read More
Care Inspired. Physician Designed
Inspired by his own tibial tendonitis, Dr. Patrick DeHeer set out to create a solution that provided the correct healing conditions while making it accessible for anyone who was also suffering from equinus and various other related conditions.
After over 5 years of research and design, Dr. DeHeer's goals have been realized  with the creation of  The Equinus Brace®. But he hasn't stopped here! Through continued research and development, we are constantly improving and implementing new technology to truly make our brace truly the ultimate solution to ALL equinus deformity issues.
Worldwide Business with Kathy Ireland®


We discuss how our nonsurgical equinus treatment is helping customers regain mobility, increase functionality, and decrease pain.
Watch The Full Segment

IQ Med is Embraced by Broadway's 'The Lion King' Dancers

See how Nicole Alvarez from Broadway's The Lion King uses The Equinus Brace® to 'stay loose and keep up with her physically demanding schedule.'
Read Full Article

Alexandra Hughes of The Pennsylvania Ballet

The Equinus Brace has really helped me get rid of the tight and achy muscles that contributed to my stress fracture. The brace helped relieve my tired muscles and stretch the entire leg, from toes to the thigh, providing complete relief. After a few weeks, I noticed a change in my ballet performance.